Welcome to AMGO Lifts of Florida, your DIRECT SUPPLIER for the safest, highest quality vehicle lifts in the WORLD. We are an official AMGO Distributor and are the leading supplier for this WORLDWIDE manufacturer of heavy duty commercial dealership and shop use lifts. We are also the supplier of private home garage and residential HOBBY AND STORAGE LIFTS.
AMGO Lifts of Florida will ship your lift and lift accessories for commercial and residential lifts throughout the 48 contiguous United States.
We sell lifts for cars, trucks, heavy equipment, ATVs and motorcycles.  Everything to satisfy the most demanding requirements.

We feature light, medium and very high capacity scissor lifts and 4 post lifts for alignment and non-alignment requirements.  Our 2 post lifts are state-of-the-art in safety, quality of finish and usability.
We also have residential lifts that fit every need, including both portable and anchored lifts.
There is a high quality AMGO lift for your every need, and AMGO Lifts of Florida has it in stock, ready to ship to you with unmatched customer service and professionalism.
Customer satisfaction is the NUMBER ONE PRIORITY at AMGO Lifts of Florida.  Search our website to find the lift and lift accessories you need, or call us directly at 407-419-1440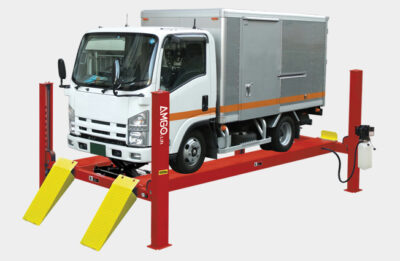 Innovation and R&D:  AMGO Hydraulics is constantly developing new technologies and bringing new innovations to the Commercial and residential market. We supply high capacity heavy duty Two-post lifts that meet CE standard, Plus large tonnage four-post and scissor truck lifts. All these lifts deliver new standards in quality and craftsmanship to the market, ensuring our customers have a safer, more efficient and highly productive product with a industry leading warranty.
Reliability: Reliability goes beyond the high-quality products and service we proudly produce and deliver each day. AMGO has more than 20 years of hydraulic manufacturing experience and we deliver reliable products and services that more than meet our customers' demands and expectations—they exceed them.
Want more information? 
Call now

407-419-1440 or contact us online for fast service.