IMPORTANT TIPS WHEN SHOPPING FOR A GARAGE/WORKSHOP LIFT
1. What are you going to do with the lift.
A GARAGE/WORKSHOP Automotive lift is an excellent investment for anybody that wants extra vehicle storage space or wants to work on their own Auto or Truck. But the decision you make now on the type and capacity of lift will determine how satisfied you eventually are with your purchase. The first thing you need to determine is exactly what you are going to use the lift for. Are you going to just use it for storage for your extra vehicle, or will you be using it as a vehicle repair lift, or both.  Additionally, you need to determine how much space you want to take up in your Garage or workshop. And finally, you need to take careful measurements of the space it will go in including how much front to rear depth you have and minimum ceiling height.
2. Types of Auto Lifts for a Home Garage or Workshop
The variety of available Automotive lifts is as varied as the requirements you have and the limitations in the location you want to put the Lift. The main types are:
A: 4 Post Hobby Lifts
B: 4 Post Work Lifts
D: 2 Post Clear Floor Lifts
E: 2 Post Floor Plate Lifts
F: Portable Scissor Lifts
G: Anchored Scissor Lifts
H: Portable Single Post Lifts
I: Anchored Single Post Lifts
As you can see above, with so many options on the type of lift you can invest in, it is important that you really understand your personal requirements for your new lift, and also be familiar with all of the advantages and disadvantages of each different type of lifts available. In addition, your choice should also include Due diligence on the Manufacturer of the lift as this will make a big difference in both the safety and longevity of the lift
3. Shop your lift based on your personal requirements – not strictly on price
Being used to shopping for the cheapest item available on the internet, we are in the habit of shopping mainly by price. Unfortunately, with Automotive lifts, cheap lifts are usually cheap for good reason and it's unlikely that you will be rewarded for "saving money" on an inexpensive parking lift. In fact, the contrary is true. The cheapest lift may seem to be the best value, but it's rarely true.
AMGO understands that pricing is very important to our customers when they are looking for their personal Auto Lift like any other any major purchase, and sometimes the AMGO Lifts price is higher when compared to other cheap lifts. But this is the type of equipment that investing a few more dollars now will save you a much larger amount a few years down the road. Plus, what price is the safety of you and your family. Many cheap manufacturer's customers first bought from other sources and then quickly came to us for a quality replacement when their equipment fails or they could no longer get replacement parts. That is why AMGO lifts have one of the best in industry warranties in the unlikely event that you need to have a lift repaired.
As with any other investment you make, you want to make sure the equipment is built to the highest standards available, has direct technical support, and has a rock solid warranty. When you are buying from e-commerce sites that sell multiple lifts from different manufacturers, that is what you are getting, just a sales site. When shopping the  too-good-to-be-true "deals", you run the risk that the the seller has no experience with the lift you are buying and will refer you to the manufacturer when you have questions or need warranty service. They are just selling you auto lifts with little care for what your needs really are and how you plan on using the lift. The design of the lift, it's quality and safety is not their concern – it's just making their sales quota. Little or no customer service can be expected, and the soon-to-follow poor communication and pass you on to the manufacturer is the normal process.
At AMGO lifts we don't sell other lift manufacturer's equipment – We sell only our professionally designed equipment. The lifts you are buying from us are lifts that are manufactured by AMGO.
We are the supplier and final source for all your questions on buying, installing, and using your AMGO lift.
4: Your new Auto lift should be made to last you decades
AMGO Auto Lifts meets or exceeds all important requirements for safety certification. Official third-party CE examination involves rigorous testing to ensure high structural durability, so a well-maintained and properly used AMGO lift is guaranteed to hold up over time. That is why we give you a 5 year structural warranty, and 3 years on the hydraulic components.
5. Garage and personal shop lifts are a great way to add to your vehicle storage.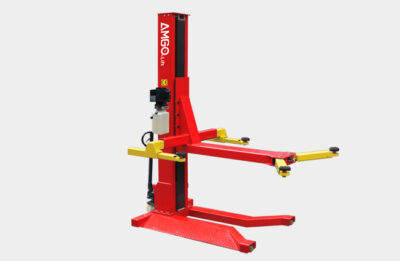 If you want to purchase a lift strictly for storage of that extra sports car you have, then an AMGO parking lift is a great investment. Instead of adding on to your garage or shop a parking lift will save you 10's of thousands over the hasse and expense of adding to your structure. If you want to free up space and park your two vehicles on one side of your garage, then a AMGO 4 post storage lift or single post lift will give you everything you need for a small investment.

In addition, a parking lift allows you to park your prize possession in your garage or shop and protect it from weather damage and theft. The AMGO lifts shown above are well built, PORTABLE, and specifically designed to allow you store one vehicle on top of another. Once on the safety locks, your sports car is safely tucked away until you are ready to use it.